Inflammasomes are multiprotein complexes that mediate the pro-inflammatory response of innate immune system to external stimuli through IL-1b and IL-18. Excessive pro-inflammatory response driven by IL-1b and IL-18 is a major pathophysiological event in several autoimmune, neurodegenerative and metabolic diseases.
NLRP3 inflammasome activation is defined by oligomerization of NLRP3 which recruits apoptosis-associated speck like proteins (ASC) and pro-caspase- 1, leading to caspase-1 activation and subsequent conversion of pro-IL- 1β into active IL-1β (PMID: 20168318). This protein complex is generally formed after activation by sequential triggers.
The first stimulus, referred to as a priming signal, initiates nuclear factor- κB (NF-κB) activity by Toll-like receptor (TLR) signaling, thereby inducing IL1B and IL18 mRNA synthesis (PMID: 19570822). The second signal leads to the oligomerization and formation of the NLRP3 protein complex, resulting in caspase-1 activation and consequently release of mature IL-1β and IL-18. There are several potential triggers for the second signal, amongst others, extracellular ATP, potassium efflux, release of mitochondrial DNA and lysosomal damage (PMID: 24840700).
GBS Leiden offers a reliable, reproducible and feasible ex vivo method to assess human cellular immune and inflammasome responses to different challenges in intact human whole blood. Our Xvi-Blood assay provides a more physiological environment, which gives an in- depth assessment of serum biomarkers and responses of different cell populations. All major populations of cells are represented in Xvi-Blood assay including neutrophils, basophils, eosinophils, monocytes, pDCs, mDCs, NK cells, T cells and B cell populations. In addition to maintaining the major circulating cell types, the soluble plasma constituents are minimally affected, allowing the interplay between coagulation/complement pathways while maintaining cells in a more natural setting.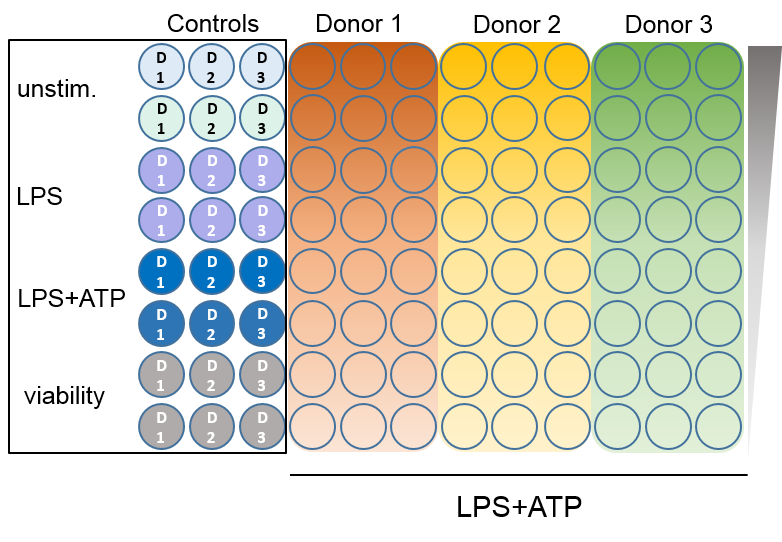 Assay features
Method: cytokines-multiplex; flow cytometry
Challenge: see List Emax or EC50 15
Testing concentration (client compound): 5-8 points
Controls: min 3; viability
Incubation: 24-48h
Format: 96-well format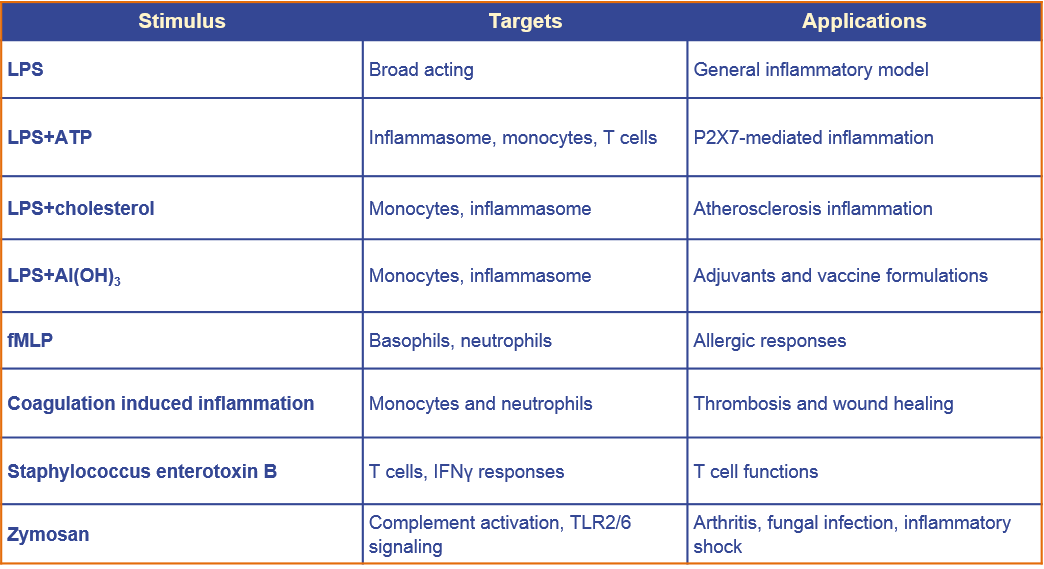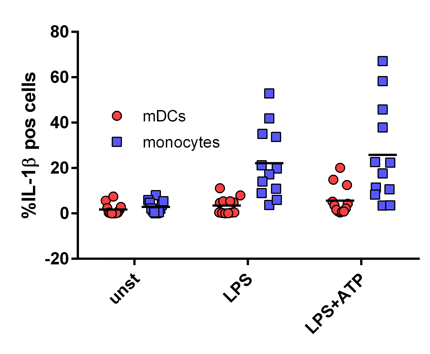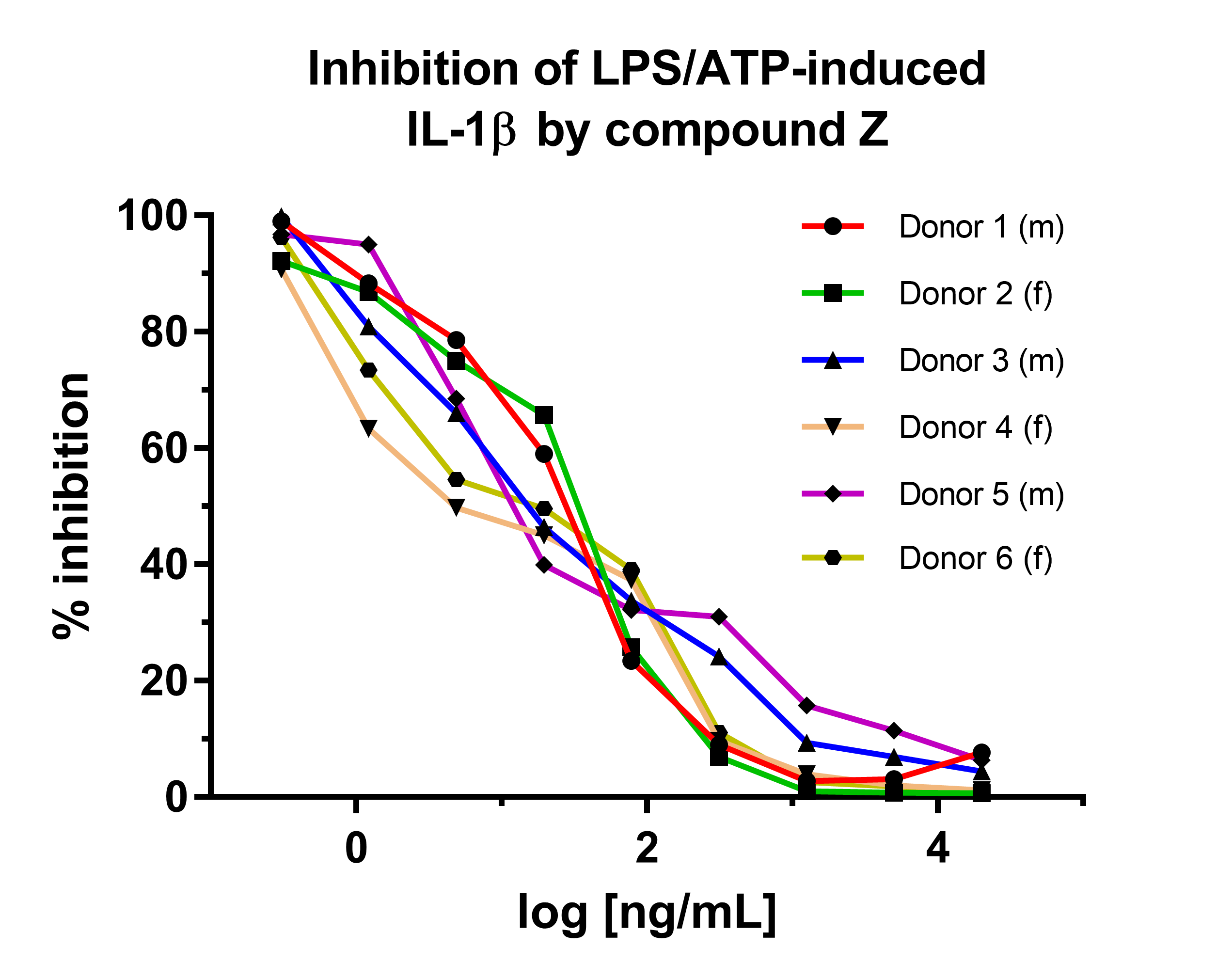 Figure: Flow cytometry detection of predominant cell population in Xvi-Blood assay that generates soluble IL-1β upon inflammasome activation with LPS+ATP. Blood from 12 healthy volunteers was incubated unstimulated or stimulated with 2ng/ml LPS or 2ng/ml LPS + 5mM ATP in the presence of protein transport inhibitors. Leukocytes were stained for cell- surface markers and intracellularly for IL-1β. mDC: myeloid dendritic cells.
Figure: IC50 comparison in healthy donors. Compound Z inhibits LPS/ATP induced IL-1β levels in Xvi-Blood. Fresh whole blood from 6 different, gender-age matched donors is pre-treated for 1h with increasing concentrations of compound Z and incubated with LPS/ATP. After 4h incubation, IL-1β is measured in the supernatants by ELISA.